For years, it seems, the hottest swimsuit trends searched for inspiration back in time. Celebs and stylish Instagram girls seemed over the moon with 1940s and 1950s fashion and it showed, even at the beach. High-waisted bikini bottoms and elegant one-piece swimsuits with ruched details, halter tops, and sweetheart necklines reigned supreme and the less you showed, the more intriguing the look seemed. But as Bella Hadid recently proved on her Instagram, fashion has boldly moved forward — and that means way (way!) less fabric, an emphasis on strategically placed strings, and vibrant cuts and colors that are inspired more by Copacabana beach than Marilyn Monroe's wardrobe. We never thought we'd see string bikinis like this—but now it's a huge trend with Bella Hadid on board.
These $20 leggings from Nordstrom Rack are The. Best.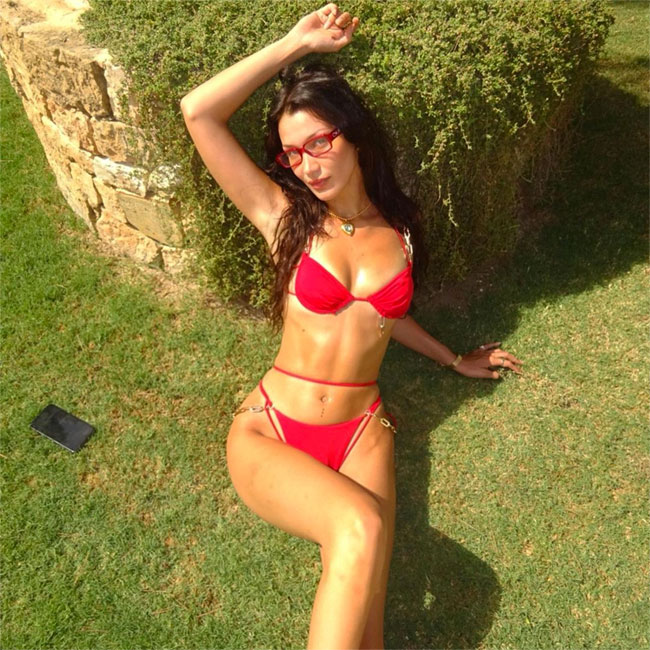 Instagram.com/bellahadid
Everything old is new again — and the same applies for swimsuits. The thong bikini became a mini trend in the 1970s and early '80s, perhaps in response to the more modest fashions of the 1950s and early '60s, but they didn't exactly take the world by storm. And then came Instagram and model Bella Hadid and everything has changed — suddenly, women on beaches everywhere are embracing this less-is-more swimsuit mania. Bella herself took to Instagram recently with a series of photos showing her lounging on the grass wearing a red string bikini by Dilara Findikoglu called the Belly Dancer Bikini Top (the bottoms are called Belly Dancer Bikini Bottom).
The look is fierce — bold red hue, a bottom and top secured by spaghetti straps and elegant gold chains, with strings wrapping around the waist. Needless to say, her fans and followers were floored. Notably, model and swimsuit designer Emily Ratajkowski, who is no stranger to a thong bikini herself, was very appreciative, writing: "The digi keeps bringing the hits." 
Instagram.com/bellahadid
Bella is always one of the first to bravely try on new trends, such as when she embraced '00 Y2K fashion picks like low-rise jeans and cropped baby tees. But fashion moves swiftly and it's all about the '80's right now — and that means swimsuits cut with higher legs and skimpy backs, as well as metal details (don't be surprised if she styles this suit with scrunchy white socks, Keds sneakers, and a plastic charm necklace). If you're curious about the price tag for this specific swimsuit, prepare to weep: the top alone costs $235 and the bottoms are priced at $214. But the great news is that the trend has spread big-time, which means you can score your own Bella-inspired string bikini for much less at outlets like Shein, Doll, and Inamorata (Emily R's label). Are you brave enough to give this sexy bikini trend a try? 
This amazing article on "We Never Thought We'd See String Bikinis Like This–But Now It's A Huge Trend With Bella Hadid On Board!" was originally found here
https://dgtlyf.com/we-never-thought-wed-see-string-bikinis-like-this-but-now-its-a-huge-trend-with-bella-hadid-on-board/